What are R&D tax credits?
R&D Tax Credits are an HMRC tax incentive established to encourage companies to invest in Design and Innovation. They can offer your business the opportunity to claim back a proportion of your R&D expenditure as tax credits, reducing your overall tax burden. A successful claim can result in a cash injection of up to 33p for every pound spent on R&D, into your ongoing innovation activities.
R&D tax relief can be claimed by all UK companies that seek to research or develop an advancement in their field. It can even be claimed on, ongoing, incomplete or unsuccessful projects. They work by either reducing a company's liability to corporation tax or by making a repayment to the company for tax already paid, for up to 2 previous accounting periods.
Who can claim R&D Tax Credits?
To qualify for the R&D tax incentive scheme there are two requirements:
Be a UK registered, currently trading company, subject to the normal UK corporation taxation regime.
Spend money on qualifying research and development projects.
There are different schemes to claim dependent on the company size:
SME's claim R&D tax credits
Large companies claim Research and development expenditure credit (RDEC)
What counts as R&D?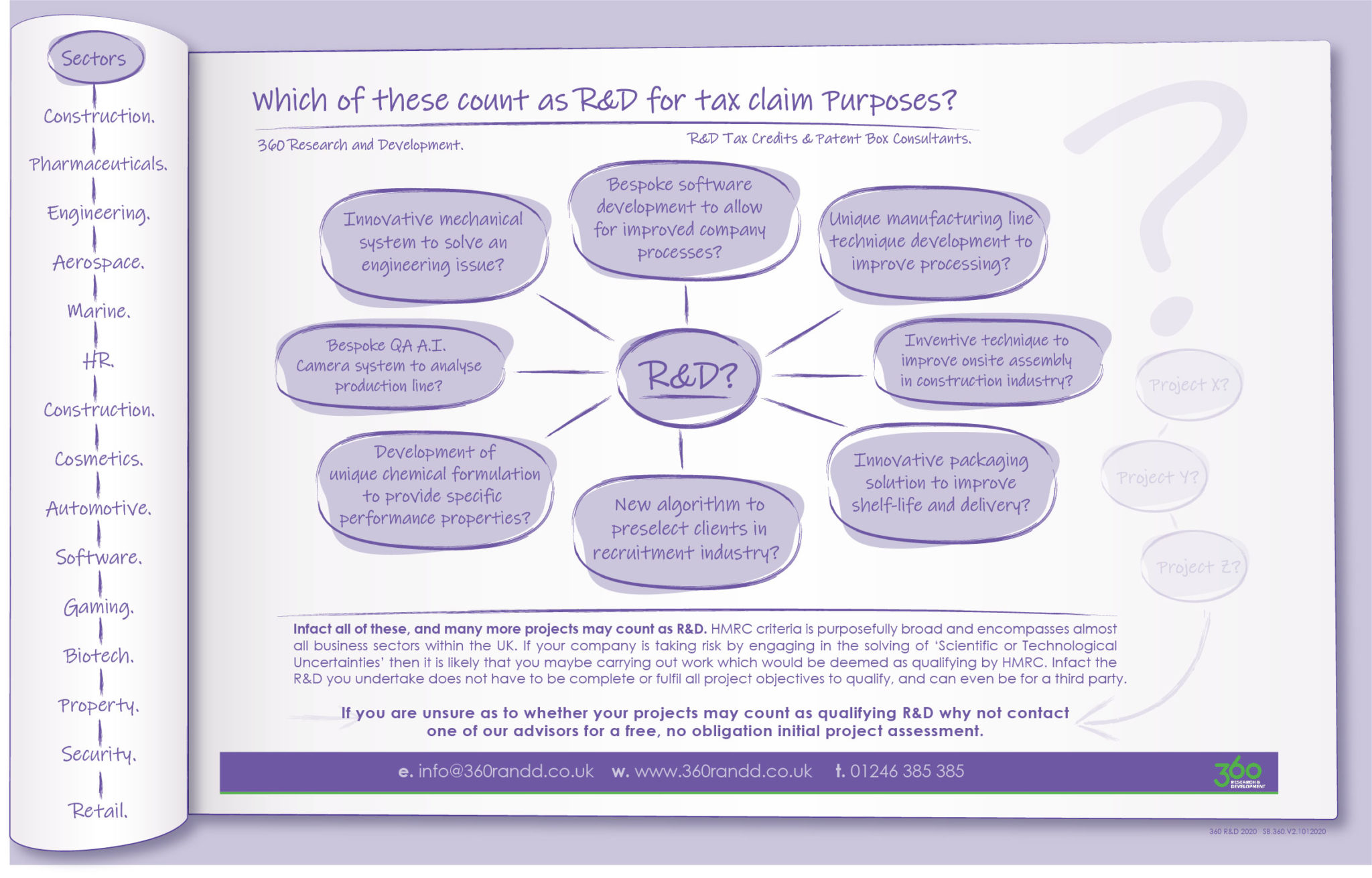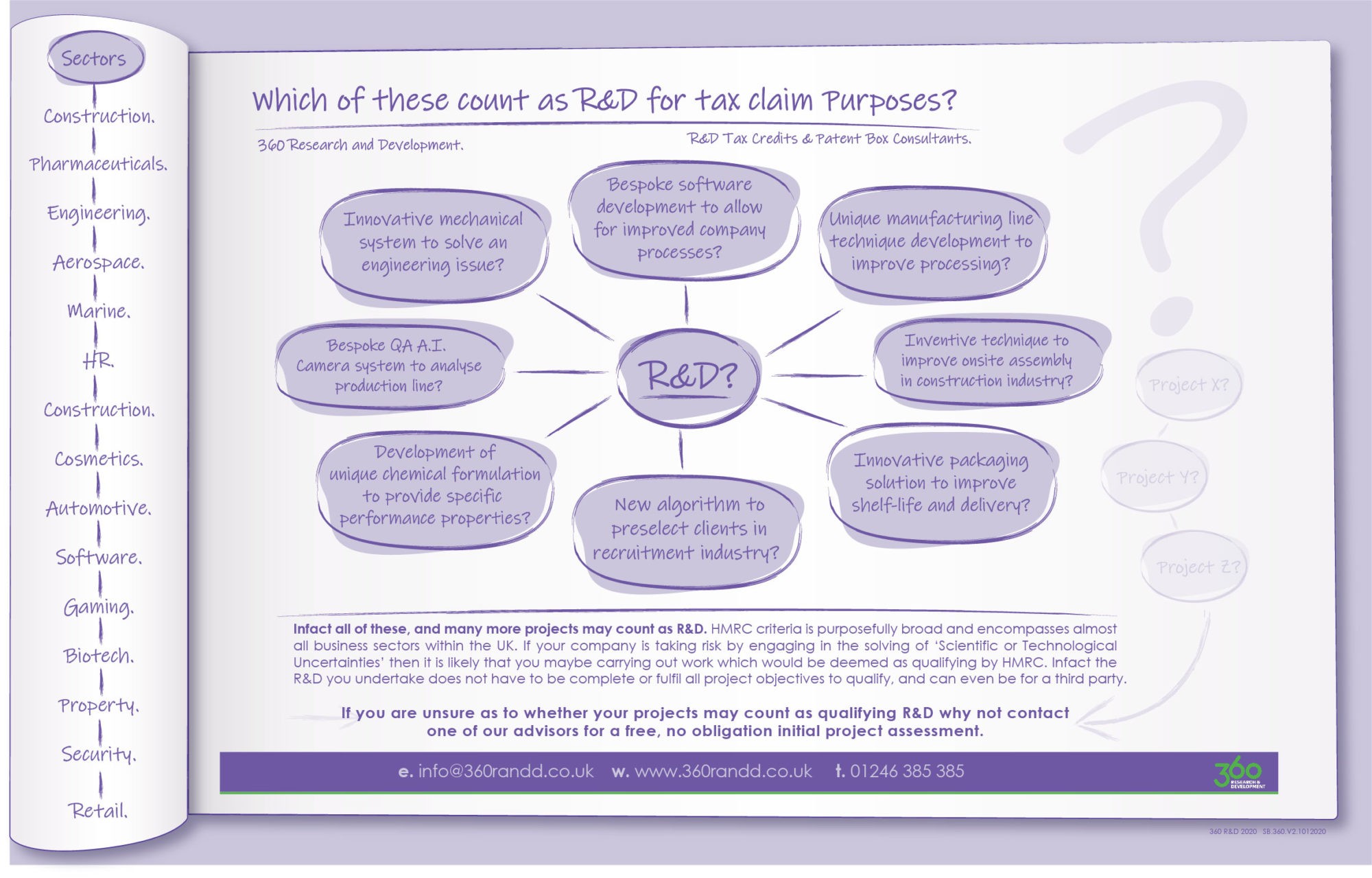 The criteria for R&D is purposefully broad to promote innovation and increase spending on R&D.
Here are some of the definitions HMRC provides for what qualifies as R&D;
– Looking for an advance in science and technology 
– Research or development of a new process, product or service 
– Improvement of an existing process, product or service 
> How does R&D Tax Relief help your business?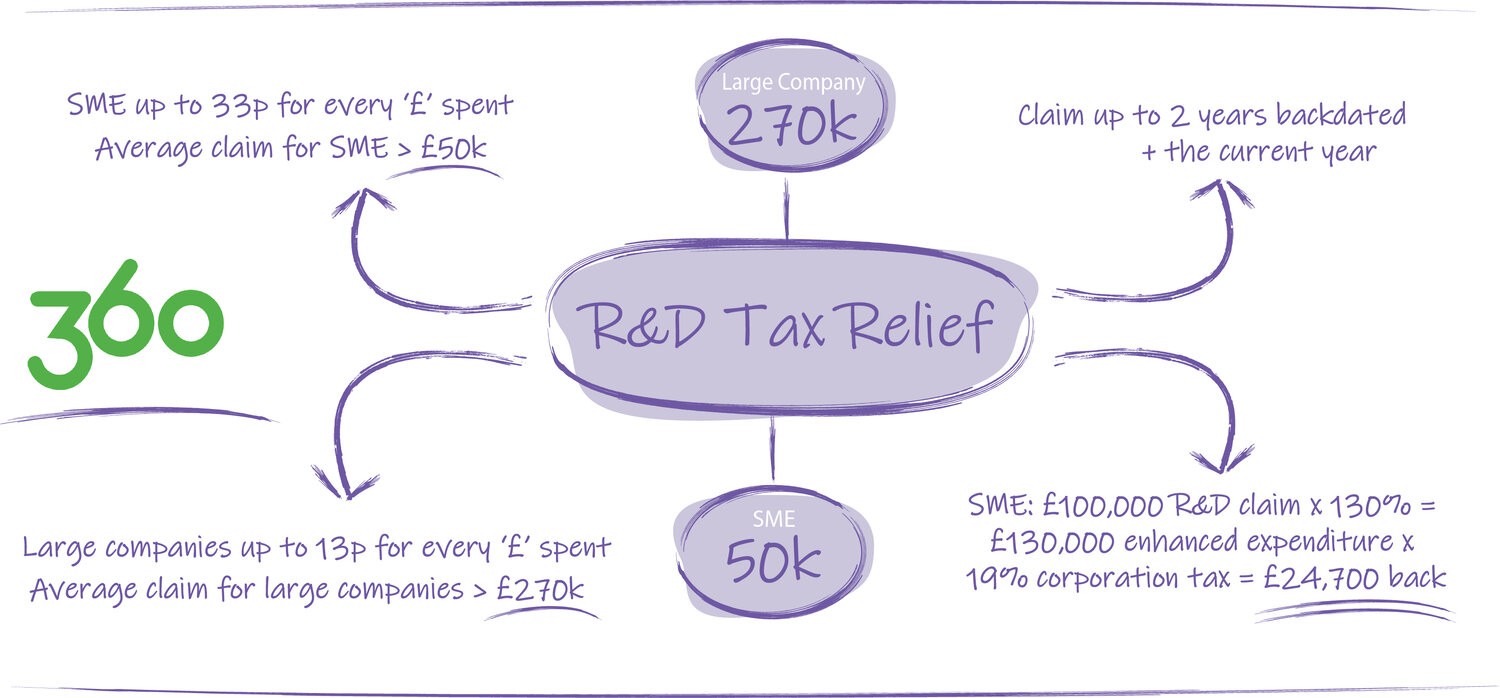 SME Companies can claim up to 33p for every £1 spent on qualifying R&D expenditure
The average claim for an SME is over £50,000
Large companies can claim up to 10p for every £1 spent on qualifying R&D
The average claim for a large company is over £270,000
If you haven't already claimed, you can claim for the previous 2 accounting periods as well as the current one.
Example for profit making SME: £100,000 R&D claim x 130% = £130,000 enhanced expenditure x 19% corporation tax = £24,700 entitlement
> What counts as R&D expenditure?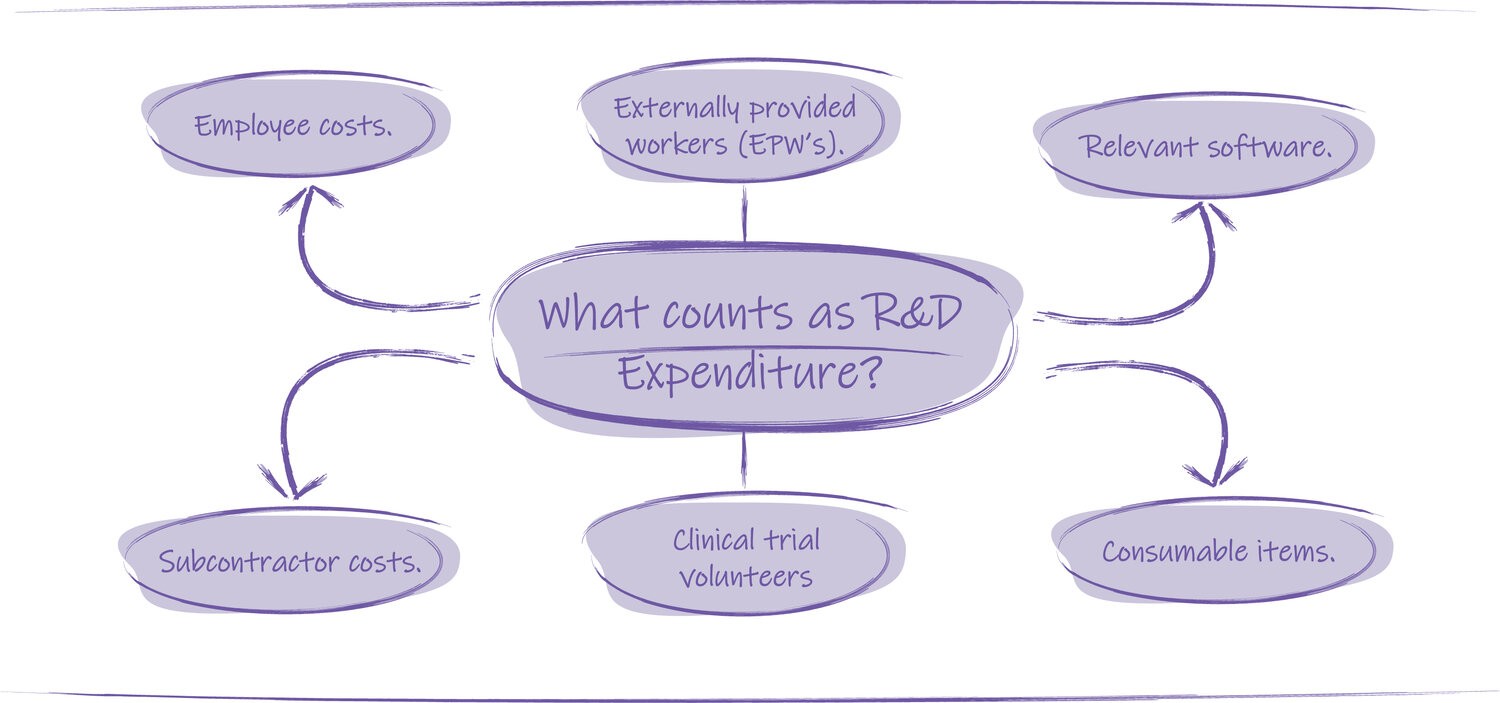 Employee costs
Subcontractor costs
Some types of software
Consumable items
Clinical trials volunteers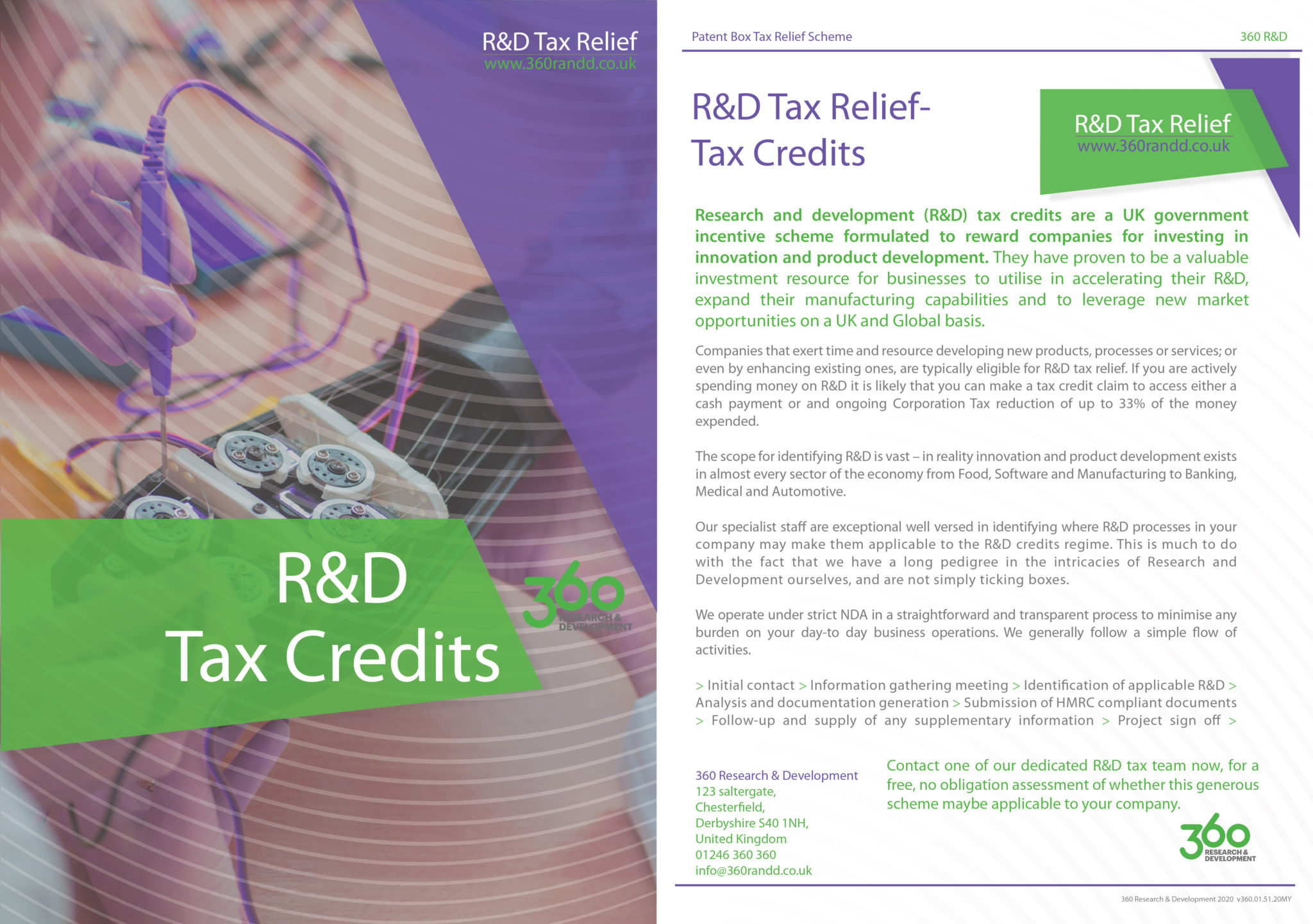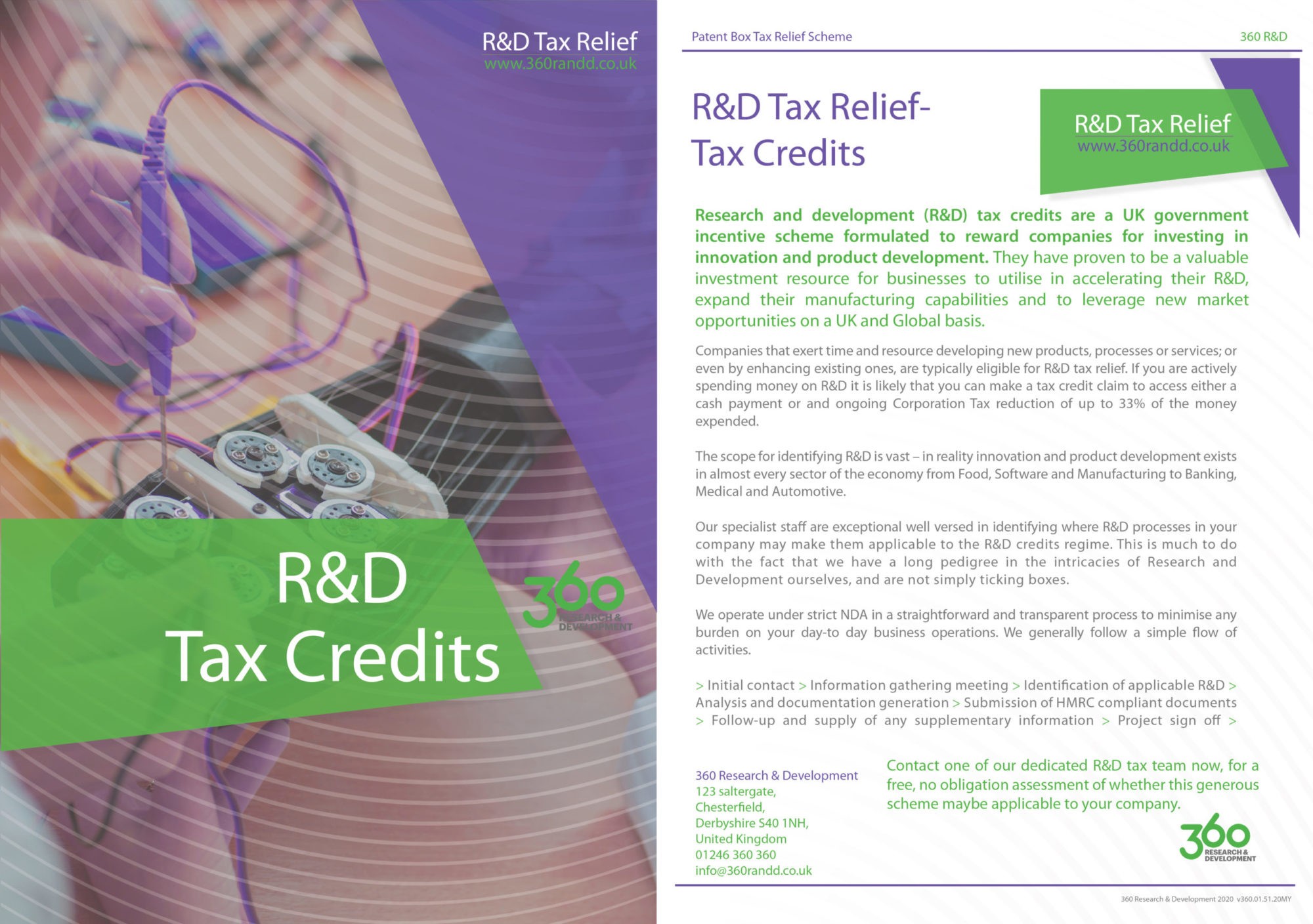 As specialists in Product Development, we can advise on your R+D claims and complete successful applications. Please get in contact with us below for more information about the service we offer, with no obligation.
Please also find out more about our UK Patent Box service by clicking here.